Student Resources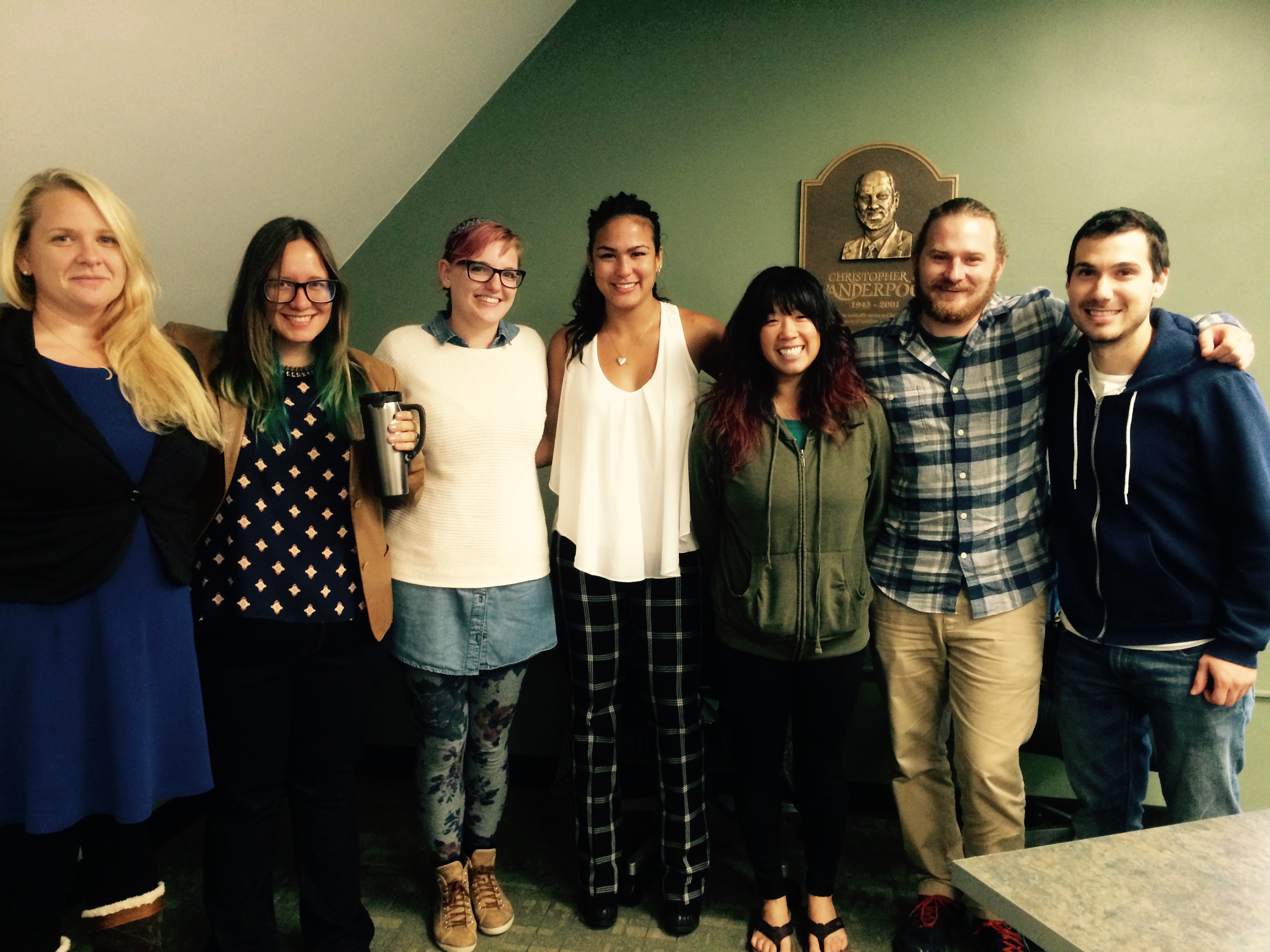 The 2016–17 Animal Studies Graduate Students
Left to right: Kelly O'Brien, Seven Mattes, Marie Carmen Abney, Sandy Burnley, Cadi Fung, Stephen Vrla, Mark Suchyta
---
---
Social Media
MSU Animal Studies Blog (coming soon!)
---
Organizations
MSU Coalition of Animal Protection Organizations
---
Journals
---
Books and Special Editions
A special issue of Humanimalia invites papers on the subject of "Breed" from multiple disciplinary and geographic perspectives, and from any time period.

The concept of "breed" has become central to many industries and economies in the twentieth and twenty-first centuries; yet, as the work of Harriet Ritvo, Donna Landry, Richard Nash, Sandra Swart, and Margaret Derry—among many others—variously demonstrates, the consolidation of "breed" in its modern form is a relatively recent historical development that is enmeshed in the history of human identity. Closely aligned with imperial agendas, scientific developments, and fluctuating understandings of humanity, the idea of breed has proven to be an essential component to understanding the modern world. Breed is central to understandings of 'co-evolution' and 'intra-action', yet, what breed constitutes, how it functions within the modernizing framework, and how it differs between time periods and geographic locations remain largely open questions. Possible topics and questions include, but are not limited to the following:

- Definitions of "Breed"

- Temporality

- The idea of "purity"

- Science and technology

- Problems of methodology

- Theoretical approaches and issues

- Breed and breeding

- Sources and archives

- Beed and species

- Modernity

- Identity and/or gender

- Breed and the human animal

Send abstracts (500-1000 words) and queries by July 15 2017 to:

Dr. Kristen Guest

or

Dr. Monica Mattfeld

 

Complete essays will be due September 30, 2017 and should conform to the requirements for publication in Humanimalia:

1. PC-compatible files only (MS Word or WordPerfect preferred);
2. required length: 5,000-15,000 words;
3. on a separate page/post, include your name and your postal and e-mail addresses, the title of your essay, and a brief abstract of its contents (3-5 sentences);
3. for the text itself: margins at 1", double spaced, font size 12 pt.;
4. use MLA Style for all documentation;
5. include Notes and Works Cited at the end as regular text. In other words, please do NOT use the "automatic" footnote/endnote function on your word processor to generate these. They sometimes tend to disappear when traveling through cyberspace or when the document is converted. 

Final acceptance will be via the 3-stage peer review and editing process required by the journal.

Please note: Any contribution that is accepted for publication in Humanimalia is done so with the understanding and under the author's warranty (1) that it has not been previously published in English, and will not be published elsewhere until after it has been published in Humanimalia ; (2) that the author will be financially responsible for any legal action taken against Humanimalia by cause of his/her contribution; (3) that Humanimalia retains the right to republish the contribution in any issue or reissue of Humanimalia in any form, including the Humanimalia website, and to reprint it in any anthology sponsored by Humanimalia ; (4) that in any subsequent republication of the contribution, the author will acknowledge its first publication in Humanimalia.

 

Final papers will be due October 1, 2017.

CFP: "Animals with (or without) Borders" (PJHS, Summer 2018)

by Hussain Ahmad Khan

We are seeking papers on the theme of "Animals with (or without) Borders" for the summer 2018 issue of the semi-annual scholarly journal, Pakistan Journal of Historical Studies (PJHS), published by the Indiana University Press (Bloomington, USA).

This guest-edited issue explores the interaction between human boundaries and animal lives. As a historical phenomenon, such interaction would include the imposition of borders on existing trade routes and seasonal migration of pastoral societies, and attempts to politically corral animals to fit human boundaries. Socially, it might address problems such as the difference in animal production or welfare on two sides of a border. Politically, it would extend to veterinary, epidemic and tax controls on the movement of animals or animal products, and the role of infrastructure and development capital in the regional development of breeding and production chains.

China historian Thomas David DuBois and the journal's regular editorial team will collaborate to edit this issue.

For more information or to propose an idea, please email to pjhs@khaldunia.org (cc to thomas_dubois@yahoo.com; hak@khaldunia.org)

Deadline for submitting articles will be15 December 2017. Manuscripts should be submitted through the Indiana University Press website, via the following link: 

https://scholarworks.iu.edu/iupjournals/index.php/pjhs/login

Length of an article should be between 8,000 and 12,000 words. For style-sheet, visit the following link:

http://hak3408.wixsite.com/khaldunia/guidelines-for-contributors

Journal's website: http://www.iupress.indiana.edu/pages.php?cPath=4&pID=97

Call for Papers: Animal Intersections issue of Animal Studies Journal

Animal Studies Journal is seeking submissions from scholars and creative practitioners for a special edition focusing on the themes of the forthcoming Australasian Animal Studies Association conference 'Animal Intersections', to be held at the University of Adelaide 3-5 July, 2017.

The journal is interested in papers which address the fractures, tensions and layers of intersection across human-animal relations, and in particular for the lives of non-human animals. Papers might engage with the practices and methods associated with theories of intersectionality in order to enrich the study of non- human animal lives and their interface with human society.

If you are interested in submitting an essay for consideration, please visit the journal website and consult submission rules and policies. Length of contributions is generally 4000–6000 words for articles, 1000–6000 for creative works plus images. Submission of articles: http://ro.uow.edu.au/cgi/submit.cgi?context=asj

Submissions are due no later than 31 July, 2017

For further information please contact either: Melissa Boyde: boyde@uow.edu.au
Michael Griffiths: mickg@uow.edu.au

ASJ Editorial team

Editor: Melissa Boyde
Associate Editors: Michael Griffiths, Philip Armstrong, Annie Potts, Sally Borrell 
---
Conferences and Programs
It is with great pleasure I announce the dates for the 2018 Association of Professional Humane Educators (APHE) annual humane education conference. The 2018 conference will be held March 5-7 in Orlando, Florida.

The call for presentation proposals will officially open in September. We are encouraging proposals in the following areas:

​Curriculum & Instruction Design Techniques / Service Learning / Multicultural Education / Education Theory
Human & Non-human Animal Interactions
Applied Animal Behavior
Animal Minds & Sentience
Local Education Programs

Multiple session formats will be available, including poster presentations and structured talks. Talks may be 45, 60, or 90 minutes in total length. If you are interested in submitting a proposal to present at the 2018, I encourage you to let me know ahead of time. Please include your contact information, topic, and desired format/length of presentation. Once the call for proposals officially opens, I will connect with you directly to submit the proposal. We encourage submissions by student presenters.

This conference will include a 3-hour optional pre-conference workshop, 11 concurrent session time blocks, optional post-conference excursion, and vendors/exhibitors. While the official conference website is under construction, it will be made available by the end of the month. Be sure to check www.aphe.org/ for more information.

If you have any questions at all, please do not hesitate to contact me directly. Thank you for sharing this opportunity with your colleagues, staff, volunteers, and students who are interested in humane education. We look forward to seeing you at the 2018 annual humane education conference in Orlando, Florida.

Brian Ogle
Faculty / Program Coordinator, Anthrozoology
Beacon College
Board of Directors & 2018 Conference Chair - Association of Professional Humane Educators ​

International Conference on Agricultural and Food Science/International Conference on Biotechnology and Bioengineering. 

October 25-27, 2017

 Lahore, Pakistan. The joint conference is organized by Asia-Pacific Association of Science, Engineering and Technology (APASET) and Virtual University of Pakistan (VU). The themes of the conference are New Approaches and Applications in Agricultural Biotechnology; Animal Science & Technology; Plant Science & Technology; Food Science & Nutrition; Agricultural Engineering, Agricultural Economics and Management. 

Abstract submission 

deadline: 

September 20

.
---
Funding
Internal
External

Thanks to generous funding from Bob Barker, UCLA Law School is pleased to offer the Animal Law and Policy Small Grants Program ("UCLA ALP Program"). The UCLA ALP Program exists to encourage new research, with the goal of developing better empirical bases from which to understand, evaluate, and pursue animal law reform. Applicants from a variety of academic disciplines - including economics, sociology, demography, social psychology, moral psychology, medicine, plant-based nutritional science, cognitive science, law, public health, and public policy - are encouraged to apply. The UCLA ALP Program has two goals:

Fostering sound empirical - quantitative or qualitative - knowledge related to human uses of animals, alternatives to uses of animals, and humans' relationship to animals, which animal law and policy academics and practitioners could use to develop animal law and policy reform applications.

Supporting empirical research that enables animal law and policy academics and practitioners to develop increasingly more sophisticated understandings of the impact of public policies and laws that affect animals directly or indirectly.

CONTACT INFORMATION

Taimie Bryant
Director, Animal Law and Policy Small Grants Program


 For questions, please email the UCLA ALP Program: alp@law.ucla.edu



Call for Research Proposals - The animal protection organizations Farm Sanctuary (farmsanctuary.org) and The Kimmela Center for Animal Advocacy (www.kimmela.org) announce a Call for Grant Proposals for cutting-edge noninvasive research on the complex nature of farm animal (chickens, pigs, sheep, goats, turkeys, and cows) emotions, behavior, and cognitive abilities in an approved setting (such as a farm animal sanctuary). We are particularly interested in funding rigorous innovative research which will expand our understanding of who farm animals are and how they experience their lives. Examples include studies of self-awareness, emotional and social complexity, personality, and mood and anxiety disorders such as depression or post-traumatic stress disorder. All proposals should be designed for publication in peer-reviewed journals, and the plan for peer review submission should be included in the proposal.

 How to Apply

Grants will be awarded for amounts from $1,000–$20,000. Research proposals should include:

A cover letter that includes the proposal title and name of principal investigator and any co-investigators.
An abstract of the proposed research.
Rationale (background) for the study.
Study aims and objectives.
Methodology, including:

A detailed description of how animals will be studied.
Outcomes measurement techniques.
Analysis.

Potential implications or impact for our understanding, perception, and treatment of farm animals.
Curriculum vitae and current affiliation of the applicant. For students, this information should be provided on the advisor(s) offering guidance on the project.
A proposed timeline, including start date and completion date.
A description of the final product (e.g., a research paper), and the plans for submitting for publication and (if applicable) poster presentation(s).

Deadline
Proposals will be considered on a rolling basis. Research can be carried out at any time agreed upon in advance with Farm Sanctuary.

Additional Information

Grant amounts depend on the scope of the project, budget justification, and significance of the study.
All research must take place in an approved setting, such as a farm animal sanctuary. (Farm Sanctuary has approved sanctuaries in Watkins Glen, New York; Orland, California; and Acton, California) Research settings should be ethologically and socially appropriate for the individual animal and his/her species and should not involve animals who are purchased or bred.
All research must be noninvasive, respectful and promote the welfare interests and choices/preferences of the animals; in other words, it must be non-coercive if it involves an intervention.
All research should avoid causing harm to the animals and their co-inhabitants.
Students are welcome, but all students must have an academic advisor and approval from their home institution.
Farm Sanctuary and Kimmela Center officers, directors, and employees, and the immediate family members of such officers, directors, and employees are ineligible to apply for a grant.
The selection committee is comprised of:

Hope Ferdowsian, M.D., M.P.H., Georgetown University; George Washington University.
Joyce D'Silva, Ambassador, Compassion in World Farming.
Lori Marino, Ph.D., Neuroscientist and Executive Director of The Kimmela Center for Animal Advocacy.
Key experts in the area under review, who will be approved by Farm Sanctuary.

Once the selections have been made, grantees will be required to execute a grant agreement prepared by Farm Sanctuary and The Kimmela Center and agree to abide by all terms and conditions thereof.

Please send questions and proposals to lorimarino@kimmela.org.

Animal Welfare Trust

Animal Welfare Trust's grant program seeks to assist organizations whose work can help alleviate animal suffering and/or raise public consciousness toward giving animals the respect they so need and deserve. Although general organizational funding will be considered, preference will be given to well-defined projects with clear goals and objectives. Capital projects will not be considered. Areas of priority include farm animal welfare, vegetarianism and humane education.
The deadline for applications is ongoing.

Farm Sanctuary

The animal protection organization Farm Sanctuary announces a call for grant proposals for observational research of the complex nature of farm animal (chickens, pigs, sheep, goats, turkeys, and cows) emotions, behavior, and cognitive abilities in an approved setting (such as a farm animal sanctuary). We are interested, for example, in the psychological profiles of these animals, including mood and anxiety disorders such as depression or post-traumatic stress disorder.
The deadline for applications is ongoing.
---
Job Listings
Internal
External

Three-year funded research PhD in multispecies studies, in Australia, working with Thom van Dooren, Eben Kirksey and Lindsay Kelley. $40,000 annual stipend, plus up to $10,000 annually for research costs.

The University of California is looking for an open-ranked professor in the Department of Human Ecology, for 'Social Science and Political Ecology of Animal Agriculture. Deadline June 30, 2017.
Detroit Zoological Society, Animal Welfare Internships

The Detroit Zoological Society's Center for Zoo Animal Welfare (CZAW) is accepting applications for animal welfare interns and residents. CZAW is a resource center for captive animal welfare knowledge, research and best practices; a convener and forum for exotic animal welfare science, practice and policy discussions; and a center conducting research and training, and recognizing advances in exotic animal welfare. The research conducted through the Center represents two key areas of interest: developing additional measures of animal welfare and the effects of captive environments and management practices on welfare. Although broadly applied across species, focus is on several taxa/animal groups. The CZAW animal welfare internships and residencies are unpaid opportunities. Interns and residents will learn the processes used by researchers in the field of animal welfare while assisting in data collection and database management. If you are currently enrolled in a college or university and can receive credit, you will be considered for an internship. If you are a recent college graduate (no more than three years between graduation and start date), you will be considered for a residency.
The deadline for applications is ongoing.

Queen's University, Animal Governance Graduate Research Opportunities

The Lives of Animals Research Group at Queen's University in Canada is seeking highly motivated, interdisciplinary, and adventurous graduate students interested in working on issues related to Animal Governance beginning September 2017 or 2018. Masters and/or doctoral level projects will explore the actors, knowledges, structures, practices, and outcomes that shape human engagements with and management of animals in Canada or Botswana. Projects will engage scholarship at the intersection of environmental governance, political ecology and animal geography to consider how and why particular animal governance strategies are operationalized in a particular context, and the ways in which humans and animals negotiate them as differentially empowered socio-political actors. Projects may focus on companion, domesticated or wild animals and may highlight strategies such as translocation, rehabilitation, training, monitoring, breeding, culling etc. A competitive funding package will be offered to successful candidates, including field research costs within Canada or Botswana. The successful candidate is expected to apply for external funding with support from the research group, and will have the opportunity to publish in peer-reviewed journals and present findings at academic conferences and to key stakeholders.
The deadline for applications is ongoing.
---
Miscellaneous
Summer Retreat Program at Shin Pond, Maine for Animal/Humane/Environmental Studies

by Bernie Unti

Summer Retreat Program at Shin Pond, Maine

for Animal/Humane/Environmental Studies

The 300-acre Camp Muse at Shin Pond, Maine, is the site of a Summer Retreat Program for writers, scholars, artists, educators, and other cultural producers and knowledge workers focusing on animals and/or their humane treatment, and/or on environmental trends or threats relevant to animals and their well-being (habitat loss, climate change, land conservation, environmental degradation, inter alia).  The program, operated by The Humane Society of the United States (HSUS), invites all interested parties to apply for a residency at the property, which is open between July 1 and October 3, 2017.

Camp Muse, a wooded retreat at the edge of a pristine and peaceful pond just ten miles from the northern entrance to Baxter State Park, offers an idyllic atmosphere for research, contemplation, writing, and other creative work.  The purpose of the program, operated through the generosity of longtime HSUS board member K. William Wiseman (1921-2014) and his wife Madge, is to encourage scholarly, cultural, and practical projects relating to animals, and to provide a site for enhanced productivity on such projects.

For views of the property, and other details, see:

http://www.humanesociety.org/about/departments/shin_pond_retreat.html

Applications for use of the Shin Pond property are evaluated by an ad hoc committee at The HSUS.

There is no application form to submit, but the applicant must present: a statement of interest that includes information on the project he/she will pursue; a statement concerning the likely value or benefit of such a project to the work and mission of The HSUS and/or its affiliates; the specific work product that will be produced during the retreat period; details of the likely outcome or application of the work undertaken at the retreat; any applicable scheduling concerns or scheduling preferences; and two professional references.  Applicants may be asked to submit copies of prior publications. To maximize the use of the property and to facilitate transitioning between participants, check in/arrival time is Monday at 2 p.m. and check out time/departure is Friday at 10 a.m. 

If approved, the applicant is expected to cover the costs of transportation to and from Shin Pond, local transportation while staying there, food, beverages, entertainment, recreational activities (including admission to nearby Baxter State Park), long distance telephone services, and all other costs connected with the applicant's use of the property. The HSUS will, however, pay for local telephone service, electrical utilities, and routine maintenance.

Participants may take up to three household members (including spouses, significant others, and children) with them. Please note that because Camp Muse is a Humane Society Wildlife Land Trust-protected wildlife sanctuary, companion animals require specific prior approval and applicants may not be permitted to bring them.  In all events, approved cats will need to remain indoors and dogs must be leashed at all times.

 The house at Shin Pond has the amenities common to any comfortable home, including all utilities and a full complement of furniture, kitchen ware, and other household equipment.

There is a telephone line and high-speed Internet access.  There is convenient food shopping at Shin Pond Village and the town of Patten.  The broad guidelines for the kind of work appropriate to the retreat include:

major intellectual projects such as a book, a chapter on an animal-related topic;
a case study, or an on-line course in animal studies;
analytical or conceptual work for a pro-animal or environmental campaign;
artistic, literary, or cultural projects that celebrate animals and the natural world; and
projects of smaller scope and/or shorter duration. 

We prefer a commitment of at least two weeks.  

Requests for use of the property for shorter periods will be given lower priority.  The property is not generally available for brief stays, e.g., an overnight or weekend visit.  Applications should be sent to Dr. Bernard Unti at The Humane Society of the United States, by mail to 1255 23rd Street, NW, Suite 450, Washington, DC 20037; by fax to 301-258-3077; or by email to bunti@humanesociety.org Applications will be received on an ongoing basis.

 

Agricultural History Society Call for Awards

The Agricultural History Society seeks nominations for its publication awards through 

December 31, 2016

. To nominate a book, article, or dissertation with a 2016 publication date, please follow the directions below. If you have a question, please email executive secretary Jim Giesen (JGiesen@history.msstate.edu).

First 100 Chimps and Last 1,000 Chimps

First 100 Chimps and Last 1,000 Chimps track individual chimpanzees from use in biomedical and behavioral research in the US to retirement. The working group tasked with exploring how to implement the conclusions of the IoM committee report suggest ending most chimpanzee research. First 100 Chimps serves as a memorial to chimpanzees who have been used in research, and Last 1,000 Chimps is forward looking. The websites' creator will be tweeting updates on the status of individual chimpanzees at Lori Gruen (@last1000chimps).

Viral Pandas

The Sneezing Pandas Project is looking for contributors. An anthrozoologist and an artist have launched an ongoing and interactive online project looking at animals in the ether. What goes viral and what doesn't? What responsibilities, if any, do we have for these animals we choose to share online? These are the opening questions, but they are in no way prescriptive for the course of the research. Viral Pandas is based on a central blog: http://viralpandas.wordpress.com, but runs for a week from an art gallery producing physical artistic responses to the ideas, as well as running online across different social networks including Facebook, Pinterest, Twitter, YouTube, Digg, and G+ for the foreseeable future. Your input is welcomed. If you'd like any further information, email us at viralpandas@gmail.com.

Voices for Biodiversity

Voices for Biodiversity is a nonprofit ezine with a goal of providing a multimedia platform where citizen eco-reporters around the globe can share their stories about biodiversity and their relationships to other species and the ecosystems that support us all. The project hopes to awaken humanity to the reality that we must move away from an anthropocentric toward an eco-centric worldview to prevent the massive die-off of other species.

ZooScope: The Animals in Film Archive

Animals have played a crucial role in the development of film as an artistic medium, from the literal use of animal products in film stock to the capturing of animal movement as a driver of stop-motion, wide-screen and CGI film technology. The wish to picture animals' lives, whether naturalistically or playfully, has led to the establishment of key genres such as wildlife film and animation. ZooScope looks at and beyond these major aspects of animals in film, covering animals' role in film genres and styles; the range of literal and symbolic ways animals appear in film; animals in the film star-system; animal lives and the ethics of film-making; adaptation and the different challenges of filmic and literary representation of animals and human-animal relations. ZooScope is a research resource for the animal studies and film communities produced by students and academics. In addition to the open call for submissions, we are seeking partnerships with academic colleagues whose students could contribute to ZooScope. Academic partners would act as sub-editors of the site, with their students producing ZooScope entries, for example, as formal assessments (with marking and feedback taking the professional form of editorial review and assessment completion coinciding with publication). This is how the archive has developed so far, as a research collaboration between undergraduate and postgraduate students and staff at the University of Sheffield and York University in Canada. Work on ZooScope challenges students and inspires creativity, enthusiasm, scholarly rigour and professionalism.

---
Links