Student Resources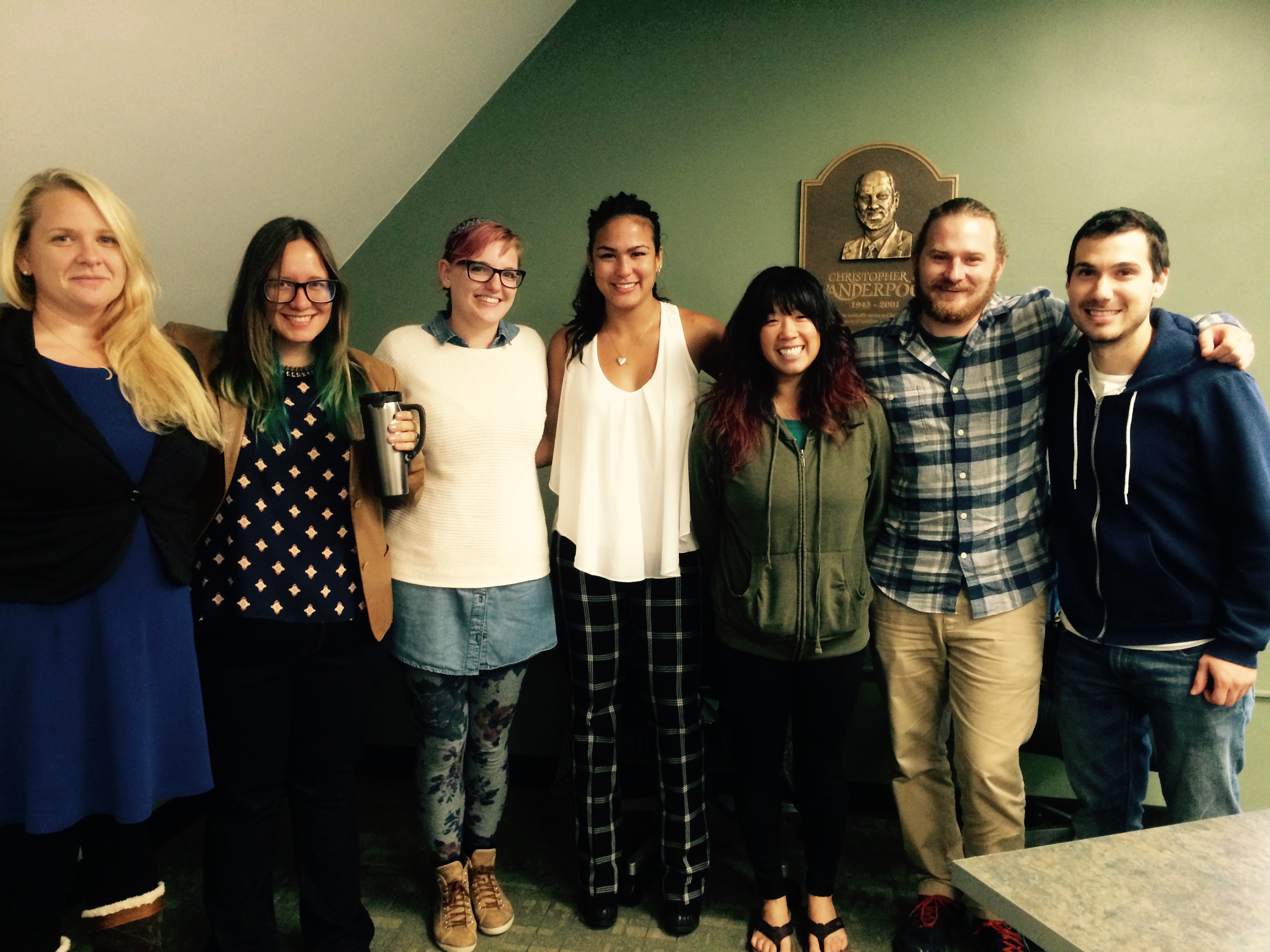 The 2016–17 Animal Studies Graduate Students
Left to right: Kelly O'Brien, Seven Mattes, Marie Carmen Abney, Sandy Burnley, Cadi Fung, Stephen Vrla, Mark Suchyta
---
---
Social Media
MSU Animal Studies Blog (coming soon!)
---
Organizations
MSU Coalition of Animal Protection Organizations
---
Journals
---
Books and Special Editions
---
Conferences and Programs
Call for Papers for workshop Being Well Together: human-animal collaboration, companionship and the promotion of health and wellbeing (

19-21st September 2018

)

by Neil Pemberton

Centre for the History of Science, Technology and Medicine (CHSTM).

University of Manchester (UK).

Being Well Together will critically examine the myriad ways humans have formed partnerships with nonhuman species to improve health across time and place. The late twentieth century witnessed the simultaneous rise and diversification of varied entanglements of humans and animals in the pursuit of health and wellbeing. Clinical examples include the use of maggots to treat chronic wounds and the post-surgical use of leeches to aid healing. In wider society we might consider service animals, such as guide dogs, diabetes alert dogs, and emotional support animals. In the home pets are increasingly recognized to contribute to emotional wellbeing, with companion animals particularly important to those who are otherwise at risk of social isolation. Expanded to include concepts such as the 'human' microbiome in the opening decades of the twenty-first century, these entanglements may be recognized as 'multispecies medicine'. In each case, human health and wellbeing rests on the cultivation of relationships with other species. Being well is a process of being well together.

We invite proposals to explore multispecies communication, collaboration and companionship in contexts of medicine, health and wellbeing. Areas of interest include, but are not limited to, the lived experience of health as a product of multispecies relations, the role of affect and emotion in the maintenance of human and nonhuman wellbeing, and the societal politics of 'being well' when 'being well' is a more than human condition. The lived experience of being well with animals can reshape understandings of health, wellbeing and disability; its study may provide new approaches to productively frame the relationship between the politics of animal and disability advocacy.

Participants will be drawn from a range of disciplines with interests spanning, though not restricted to, medical and environmental humanities. We aim to strike a balance between studies adopting historical perspectives and those which critically examine areas of contemporary practice. In bringing historical accounts into dialogue with present practices, Being Well Together will generate new perspectives on medicine, health and changing relations of human and animal life in society.

Practical Details.

Titles and abstracts (400 words maximum) as well as general queries should be addressed to Rob Kirk (robert.g.kirk@manchester.ac.uk) and Neil Pemberton (neil.pemberton@manchester.ac.uk) by Thursday 30th November 2017.

Invited participants will provide a written draft paper for pre-circulation (6-8000 words maximum inclusive of references) by 31st July 2018. These 'work-in-progress' papers will be the starting point for discussions at the September workshop with a view to producing an edited volume.

Accommodation and travel costs for invited participants will be covered by the organisers.

Being Well Together is the first in a series of activities supported by the Wellcome Trust (UK) Investigator Award, 'Multispecies Medicine: Biotherapy and the Ecological Vision of Health and Wellbeing'. Based at the Centre for the History of Science, Technology and Medicine, University of Manchester, this collaborative research project examines how, why and to what consequence, human and nonhuman life has become variously entangled within health, wellbeing and society.

See: http://www.chstm.manchester.ac.uk/newsandevents/conferences/beingwelltogether

The Concordia English Graduate Colloquium is presently seeking papers and proposals for its 16th annual conference, this year titled "Animal Print" to be held March 23-24 2018 at Concordia University in Montreal QC. We will also be launching an accompanying Special Issue of our new graduate student journal, Insight, that features work from the conference. The deadline for submissions is November 10, 2017 and complete details can be found in the attached documents or on our website.

We would greatly appreciate if you could circulate our call among your graduate students. Should you or your students have any questions, please don't hesitate to contact us at concordiacolloquium@gmail.com

Thank you very much and all the best,

Alex Custodio


English Graduate Colloquium Committee
Concordia University, Department of English
1400 blvd de Maisonneuve O.
Montreal, QC H3G 1M8
concol.ca | @concolloquium

CALL FOR PAPERS
"NEW PERSPECTIVES IN ENVIRONMENTAL HISTORY"
A Northeast Regional Conference 


Saturday, April 14, 2018

    
Kroon Hall, Yale University
New Haven, Connecticut
** Paper Abstract Submission Deadline: December 8, 2017 **
http://environmentalhistory.yale.edu
environmentalhistory@yale.edu


Yale Environmental History invites paper proposals from graduate students at northeastern universities for a one-day conference on environmental history.  Paper proposals from any region or time period are welcome. The conference seeks to showcase new projects in environmental history and to encourage vigorous dialogue among graduate students and faculty.

We invite papers that address environmental history in its broadest sense, whether dealing with political economy, society and culture, intellectual debates, science and technology, microorganisms and disease, or policy and planning.  Conference organizers are particularly eager to include comparative and non-U.S. perspectives on environmental history.

The conference will consist of three moderated panel sessions featuring graduate student papers. A faculty panel will conclude the day. Presentations will be based on papers circulated in advance to panel commentators and conference attendees.

The conference format is based on successful northeast regional conferences held at Yale in recent years. 

For more information on past conferences, including agendas and paper abstracts, visit http://environmentalhistory.yale.edu/programs/conferences   

ABSTRACT SUBMISSION: Abstract submissions should be in the form of a SINGLE document in Microsoft Word or Adobe PDF format, and must include the following:

(1) your name, institutional affiliation, and contact information;

(2) a 300-word abstract;

(3) a one-page C.V.

Submissions must be emailed to environmentalhistory@yale.edu by December 8, 2017. Please include your name and paper title in the filename of your submission. Please do not submit panel proposals-- individual papers will be grouped into panels by the conference organizers. Accepted presenters will be notified by December 15, 2017, and asked to submit their paper for circulation to attendees and commentators by March 24, 2017.

** Graduate students enrolled in doctoral programs in New England, New York, New Jersey, and eastern Pennsylvania are particularly encouraged to submit proposals.  Graduate students from outside this region are welcome to submit proposals; preference may be given to northeastern institutions.**

Please contact environmentalhistory@yale.edu with any questions.  

British Animal Studies Network cfp

by Erica Fudge

I am pleased to announce that the cfp for 'Sex', the first 2018 meeting of the British Animal Studies Network, has now been issued. The meeting will take place at the University of Strathclyde in Glasgow on 27 and 28 April 2018, and confirmed plenary speakers are: Andy Butterworth (Animal Science and Policy, Bristol University), Stella Sandford (Philosophy, Kingston University), and Karl Steel (Medieval Studies, Brooklyn College, CUNY). The BASN poet-in-residence, Susan Richardson will also be giving a performance.

Details of the cfp can be found on http://www.britishanimalstudiesnetwork.org.uk/FutureMeetings/Sex.aspx 

The deadline for abstracts is 12 January 2018.

Please also note that 'Working with Animals', BASN's next meeting will be taking place in a few weeks - on 6 and 7 October - under the direction of Emma Roe at the University of Southampton. Plenary speakers are John Bradshaw (University of Bristol), Garry Marvin (Roehampton University), and me (I never usually get the chance!). Details of the programme, and a link to the online registration page, can be found on: http://www.britishanimalstudiesnetwork.org.uk/FutureMeetings/WorkingwithAnimals.aspx

It is with great excitement I announce the Call for Proposals for the 2018 Humane Education Conference is officially open. The Association of Professional Humane Educators (APHE) annual humane education conference will be held March 7-9 in Orlando, Florida.

To submit a proposal, please visit https://www.apheconference.com/presentations. Here you will find the application for presentation proposal as well as a poster presentation application. Presentation proposals must be received by Sunday, October 29th. A committee will review submissions with decisions being announced shortly after the submission deadline. If you are interested in a vendor application, this information will be made available in the coming weeks.

Those presenting a poster will receive a conference registration discount of 10%. Those presenting a traditional conference presentation/workshop will receive complimentary conference registration. All presenters are responsible for covering any other costs associated with attending the conference, including hotel and transportation. Please note, due to technical issues, registration for the conference has been delayed. Once the issues with the site have been corrected, I will let everyone know when registration can occur.

Please share this information with any colleagues, students, staff, and/or volunteers who may be interested in presenting or attending the conference.

If you have any questions, please do not hesitate to contact me directly. Thank you very much and I look forward to reviewing your proposals for the 2018 conference.

Brian Ogle, Ed.D.
Assistant Professor, Anthrozoology | Chair, Humanities & General Education
Board of Directors – Assoc. of Professional Humane Educators | Education Advisor – Assoc. of Zoos & Aquariums' Felid and Cervid Taxon Advisory Groups
352-638-9716
bogle@beaconcollege.edu

http://www.beaconcollege.edu/beacon-college-academics/academic-majors/anthrozoology/
---
Funding
Internal
External

Dear members of the Animal Studies Graduate Specialization,
My name is Cheryl Leahy, and I'm writing to you from the newly established UCLA School of Law Animal Law and Policy Small Grants Program ("Program"). This Program is designed to support legal and non-legal empirical scholarship to advance animal law and policy reform. I'm reaching out to you specifically because of the diverse and interesting work each of you do on animal issues.
The Program is premised on a desire to see more well-designed empirical research in a variety of fields applicable to animal-related issues, and we'd like to use our funding grants as incentives for the creation or expansion of this empirical research. Applicants need not already be focused on the animal law/policy-related aspects of their research, and they need not be interested themselves in following through with applications to animal law/policy. For instance, only after empirical research validated the existence of a link between human and animal abuse could that link be used in animal law to justify more attention to preventing and addressing the abuse of animals. Empirical researchers who established the link may have been but need not have been interested themselves in the applications of their research in the animal law and policy area. Those specifically interested in animal law and policy made use of that empirical research in order to benefit animals.
For complete information, please use this link: http://law.ucla.edu/centers/social-policy/animal-law-grants-program/about/
We are hoping you will consider applying for grants under our small grants program and also disseminating this information to your graduate students and networks of anyone else who might be interested in this kind of funding opportunity. Our grant proposal period is currently open and ends on October 15th for this funding cycle. I have also attached a PDF of our Request for Proposals.
Please be aware that we will not be funding any type of research on animals, and we cannot provide funding to scholars based at institutions outside the United States. However, we are open to funding collaborative projects with U.S.-based researchers.
I can be reached at 773-259-7760 or at alp@law.ucla.edu if you have any questions. We appreciate your consideration.
Best regards,
Cheryl Leahy
Project Coordinator
UCLA Animal Law and Policy Small Grants Program


CAF is an all-volunteer-run, non-profit organization whose mission is to support artists and scholars in advancing our understanding of and commitment to animals. For more information see




Call for Research Proposals - The animal protection organizations Farm Sanctuary (farmsanctuary.org) and The Kimmela Center for Animal Advocacy (www.kimmela.org) announce a Call for Grant Proposals for cutting-edge noninvasive research on the complex nature of farm animal (chickens, pigs, sheep, goats, turkeys, and cows) emotions, behavior, and cognitive abilities in an approved setting (such as a farm animal sanctuary). We are particularly interested in funding rigorous innovative research which will expand our understanding of who farm animals are and how they experience their lives. Examples include studies of self-awareness, emotional and social complexity, personality, and mood and anxiety disorders such as depression or post-traumatic stress disorder. All proposals should be designed for publication in peer-reviewed journals, and the plan for peer review submission should be included in the proposal.

 How to Apply

Grants will be awarded for amounts from $1,000–$20,000. Research proposals should include:

A cover letter that includes the proposal title and name of principal investigator and any co-investigators.
An abstract of the proposed research.
Rationale (background) for the study.
Study aims and objectives.
Methodology, including:

A detailed description of how animals will be studied.
Outcomes measurement techniques.
Analysis.

Potential implications or impact for our understanding, perception, and treatment of farm animals.
Curriculum vitae and current affiliation of the applicant. For students, this information should be provided on the advisor(s) offering guidance on the project.
A proposed timeline, including start date and completion date.
A description of the final product (e.g., a research paper), and the plans for submitting for publication and (if applicable) poster presentation(s).

Deadline
Proposals will be considered on a rolling basis. Research can be carried out at any time agreed upon in advance with Farm Sanctuary.

Additional Information

Grant amounts depend on the scope of the project, budget justification, and significance of the study.
All research must take place in an approved setting, such as a farm animal sanctuary. (Farm Sanctuary has approved sanctuaries in Watkins Glen, New York; Orland, California; and Acton, California) Research settings should be ethologically and socially appropriate for the individual animal and his/her species and should not involve animals who are purchased or bred.
All research must be noninvasive, respectful and promote the welfare interests and choices/preferences of the animals; in other words, it must be non-coercive if it involves an intervention.
All research should avoid causing harm to the animals and their co-inhabitants.
Students are welcome, but all students must have an academic advisor and approval from their home institution.
Farm Sanctuary and Kimmela Center officers, directors, and employees, and the immediate family members of such officers, directors, and employees are ineligible to apply for a grant.
The selection committee is comprised of:

Hope Ferdowsian, M.D., M.P.H., Georgetown University; George Washington University.
Joyce D'Silva, Ambassador, Compassion in World Farming.
Lori Marino, Ph.D., Neuroscientist and Executive Director of The Kimmela Center for Animal Advocacy.
Key experts in the area under review, who will be approved by Farm Sanctuary.

Once the selections have been made, grantees will be required to execute a grant agreement prepared by Farm Sanctuary and The Kimmela Center and agree to abide by all terms and conditions thereof.

Please send questions and proposals to lorimarino@kimmela.org.

Animal Welfare Trust

Animal Welfare Trust's grant program seeks to assist organizations whose work can help alleviate animal suffering and/or raise public consciousness toward giving animals the respect they so need and deserve. Although general organizational funding will be considered, preference will be given to well-defined projects with clear goals and objectives. Capital projects will not be considered. Areas of priority include farm animal welfare, vegetarianism and humane education.
The deadline for applications is ongoing.

Farm Sanctuary

The animal protection organization Farm Sanctuary announces a call for grant proposals for observational research of the complex nature of farm animal (chickens, pigs, sheep, goats, turkeys, and cows) emotions, behavior, and cognitive abilities in an approved setting (such as a farm animal sanctuary). We are interested, for example, in the psychological profiles of these animals, including mood and anxiety disorders such as depression or post-traumatic stress disorder.
The deadline for applications is ongoing.
---
Job Listings
Internal
External

Research Fellow (80803-087)

University of Warwick

 - Department of Sociology

| | |
| --- | --- |
| Location: | Coventry |
| Salary: | £29,799 to £38,833 per annum. |
| Hours: | Part Time |
| Contract Type: | Fixed-Term/Contract |

0.5 FTE Fixed Term Position until 31 December 2020 

The Department of Sociology at the University of Warwick invites applications for a researcher to work on a Leverhulme Trust-funded project entitled 'Shaping Inter-species Connectedness: Training Cultures and the Emergence of New Forms of Human-Animal Relations, led by Professor Nickie Charles (PI University of Warwick) and Professor Mara Miele (Co-I Cardiff University). This is one of two 0.5 FTE posts, the other being at Cardiff University, and is available from 1 January 2018, or as soon as possible thereafter, for a fixed-term of 3 years.

Detroit Zoological Society, Animal Welfare Internships

The Detroit Zoological Society's Center for Zoo Animal Welfare (CZAW) is accepting applications for animal welfare interns and residents. CZAW is a resource center for captive animal welfare knowledge, research and best practices; a convener and forum for exotic animal welfare science, practice and policy discussions; and a center conducting research and training, and recognizing advances in exotic animal welfare. The research conducted through the Center represents two key areas of interest: developing additional measures of animal welfare and the effects of captive environments and management practices on welfare. Although broadly applied across species, focus is on several taxa/animal groups. The CZAW animal welfare internships and residencies are unpaid opportunities. Interns and residents will learn the processes used by researchers in the field of animal welfare while assisting in data collection and database management. If you are currently enrolled in a college or university and can receive credit, you will be considered for an internship. If you are a recent college graduate (no more than three years between graduation and start date), you will be considered for a residency.
The deadline for applications is ongoing.

Queen's University, Animal Governance Graduate Research Opportunities

The Lives of Animals Research Group at Queen's University in Canada is seeking highly motivated, interdisciplinary, and adventurous graduate students interested in working on issues related to Animal Governance beginning September 2017 or 2018. Masters and/or doctoral level projects will explore the actors, knowledges, structures, practices, and outcomes that shape human engagements with and management of animals in Canada or Botswana. Projects will engage scholarship at the intersection of environmental governance, political ecology and animal geography to consider how and why particular animal governance strategies are operationalized in a particular context, and the ways in which humans and animals negotiate them as differentially empowered socio-political actors. Projects may focus on companion, domesticated or wild animals and may highlight strategies such as translocation, rehabilitation, training, monitoring, breeding, culling etc. A competitive funding package will be offered to successful candidates, including field research costs within Canada or Botswana. The successful candidate is expected to apply for external funding with support from the research group, and will have the opportunity to publish in peer-reviewed journals and present findings at academic conferences and to key stakeholders.
The deadline for applications is ongoing.
---
Miscellaneous
Announcement: New PhD Program in Human-Animal Studies at the University of Canterbury

From January 2018, the University of Canterbury will be offering a PhD in Human-Animal Studies. This is the first such degree offered in the Southern Hemisphere, and one of only three or four throughout the world.

http://www.nzchas.canterbury.ac.nz/courses/phdhuan.shtml

Students undertaking the PhD in Human-Animal Studies (PhD HUAN) at UC will work with supervisors drawn from our pool of over a dozen academic staff working in many different areas, and will be part of the lively and inclusive research culture of the New Zealand Centre for Human-Animal Studies.

Areas for supervision include, but are not limited, to the following:

Associate Professor Philip Armstrong: animals in Aotearoa New Zealand and the Pacific; animals in literature; animals in history, especially the Renaissance and the Nineteenth Century; sheep in culture and history; whales and dolphins in culture and history; animals and environmental discourse.
Associate Professor Jane Buckingham: animals in South Asian History; elephants and elephantology.
Dr Douglas Campbell: animals, philosophy and environmentalism; extinction and de-extinction.
Nikki Evans: animals in the context of human services and social work; human-animal relationships in the aftermath of earthquakes; animal-assisted therapy; the link between animal abuse and human violence; animals and children.
Associate Professor Amy Fletcher: extinction and de-extinction; animals and public understandings of science and technology; animals and futurology; animals and environmental discourse.
Dr Rosie Ibbotson: animals in the visual arts; museology and display of human-animal relations; extinction and de-extinction.
Dr Piers Locke: multispecies ethnography; elephants and elephantology; interspecies care; animals and environmental discourse; humanism and post-humanism.
Dr Alison Loveridge: animal welfare and advocacy; animals in agriculture and food production; animals in New Zealand; animals and rural life; animals and children.
Dr Carolyn Mason: animals and ethics; bioethics.
Professor Henrietta Mondry: dogs in culture and history; animals in Russian culture and history; animals in Slavic cultures; companion species; animals in literature; de-extinction.
Dr Patrick O'Sullivan: animals in Ancient Greek culture and society; animals in classical literature and drama.
Associate Professor Annie Potts: animals in Aotearoa New Zealand and the Pacific; animals in art; human-animal relations and gender; representations of animals in horror and science fiction; chickens in culture and history; possums in culture and history; animals and emergencies; intersectionality.
Dr Michael-John Turp: animals and ethics; animals in Early Modern philosophy.

To enquire about the PHD (HUAN), contact any of the following:

NZCHAS Co-Director Associate Professor Annie Potts (annie.potts@canterbury.ac.nz),
NZCHAS Co-Director Associate Professor Philip Armstrong (philip.armstrong@canterbury.ac.nz), or
one of our other members: http://www.nzchas.canterbury.ac.nz/people/members.shtml.

Summer Retreat Program at Shin Pond, Maine for Animal/Humane/Environmental Studies

by Bernie Unti

Summer Retreat Program at Shin Pond, Maine

for Animal/Humane/Environmental Studies

The 300-acre Camp Muse at Shin Pond, Maine, is the site of a Summer Retreat Program for writers, scholars, artists, educators, and other cultural producers and knowledge workers focusing on animals and/or their humane treatment, and/or on environmental trends or threats relevant to animals and their well-being (habitat loss, climate change, land conservation, environmental degradation, inter alia).  The program, operated by The Humane Society of the United States (HSUS), invites all interested parties to apply for a residency at the property, which is open between July 1 and October 3, 2017.

Camp Muse, a wooded retreat at the edge of a pristine and peaceful pond just ten miles from the northern entrance to Baxter State Park, offers an idyllic atmosphere for research, contemplation, writing, and other creative work.  The purpose of the program, operated through the generosity of longtime HSUS board member K. William Wiseman (1921-2014) and his wife Madge, is to encourage scholarly, cultural, and practical projects relating to animals, and to provide a site for enhanced productivity on such projects.

For views of the property, and other details, see:

http://www.humanesociety.org/about/departments/shin_pond_retreat.html

Applications for use of the Shin Pond property are evaluated by an ad hoc committee at The HSUS.

There is no application form to submit, but the applicant must present: a statement of interest that includes information on the project he/she will pursue; a statement concerning the likely value or benefit of such a project to the work and mission of The HSUS and/or its affiliates; the specific work product that will be produced during the retreat period; details of the likely outcome or application of the work undertaken at the retreat; any applicable scheduling concerns or scheduling preferences; and two professional references.  Applicants may be asked to submit copies of prior publications. To maximize the use of the property and to facilitate transitioning between participants, check in/arrival time is Monday at 2 p.m. and check out time/departure is Friday at 10 a.m. 

If approved, the applicant is expected to cover the costs of transportation to and from Shin Pond, local transportation while staying there, food, beverages, entertainment, recreational activities (including admission to nearby Baxter State Park), long distance telephone services, and all other costs connected with the applicant's use of the property. The HSUS will, however, pay for local telephone service, electrical utilities, and routine maintenance.

Participants may take up to three household members (including spouses, significant others, and children) with them. Please note that because Camp Muse is a Humane Society Wildlife Land Trust-protected wildlife sanctuary, companion animals require specific prior approval and applicants may not be permitted to bring them.  In all events, approved cats will need to remain indoors and dogs must be leashed at all times.

 The house at Shin Pond has the amenities common to any comfortable home, including all utilities and a full complement of furniture, kitchen ware, and other household equipment.

There is a telephone line and high-speed Internet access.  There is convenient food shopping at Shin Pond Village and the town of Patten.  The broad guidelines for the kind of work appropriate to the retreat include:

major intellectual projects such as a book, a chapter on an animal-related topic;
a case study, or an on-line course in animal studies;
analytical or conceptual work for a pro-animal or environmental campaign;
artistic, literary, or cultural projects that celebrate animals and the natural world; and
projects of smaller scope and/or shorter duration.  We prefer a commitment of at least two weeks.  

Requests for use of the property for shorter periods will be given lower priority.  The property is not generally available for brief stays, e.g., an overnight or weekend visit.  Applications should be sent to Dr. Bernard Unti at The Humane Society of the United States, by mail to 1255 23rd Street, NW, Suite 450, Washington, DC 20037; by fax to 301-258-3077; or by email to bunti@humanesociety.org Applications will be received on an ongoing basis. 

First 100 Chimps and Last 1,000 Chimps

First 100 Chimps and Last 1,000 Chimps track individual chimpanzees from use in biomedical and behavioral research in the US to retirement. The working group tasked with exploring how to implement the conclusions of the IoM committee report suggest ending most chimpanzee research. First 100 Chimps serves as a memorial to chimpanzees who have been used in research, and Last 1,000 Chimps is forward looking. The websites' creator will be tweeting updates on the status of individual chimpanzees at Lori Gruen (@last1000chimps).

Viral Pandas

The Sneezing Pandas Project is looking for contributors. An anthrozoologist and an artist have launched an ongoing and interactive online project looking at animals in the ether. What goes viral and what doesn't? What responsibilities, if any, do we have for these animals we choose to share online? These are the opening questions, but they are in no way prescriptive for the course of the research. Viral Pandas is based on a central blog: http://viralpandas.wordpress.com, but runs for a week from an art gallery producing physical artistic responses to the ideas, as well as running online across different social networks including Facebook, Pinterest, Twitter, YouTube, Digg, and G+ for the foreseeable future. Your input is welcomed. If you'd like any further information, email us at viralpandas@gmail.com.

Voices for Biodiversity

Voices for Biodiversity is a nonprofit ezine with a goal of providing a multimedia platform where citizen eco-reporters around the globe can share their stories about biodiversity and their relationships to other species and the ecosystems that support us all. The project hopes to awaken humanity to the reality that we must move away from an anthropocentric toward an eco-centric worldview to prevent the massive die-off of other species.

ZooScope: The Animals in Film Archive

Animals have played a crucial role in the development of film as an artistic medium, from the literal use of animal products in film stock to the capturing of animal movement as a driver of stop-motion, wide-screen and CGI film technology. The wish to picture animals' lives, whether naturalistically or playfully, has led to the establishment of key genres such as wildlife film and animation. ZooScope looks at and beyond these major aspects of animals in film, covering animals' role in film genres and styles; the range of literal and symbolic ways animals appear in film; animals in the film star-system; animal lives and the ethics of film-making; adaptation and the different challenges of filmic and literary representation of animals and human-animal relations. ZooScope is a research resource for the animal studies and film communities produced by students and academics. In addition to the open call for submissions, we are seeking partnerships with academic colleagues whose students could contribute to ZooScope. Academic partners would act as sub-editors of the site, with their students producing ZooScope entries, for example, as formal assessments (with marking and feedback taking the professional form of editorial review and assessment completion coinciding with publication). This is how the archive has developed so far, as a research collaboration between undergraduate and postgraduate students and staff at the University of Sheffield and York University in Canada. Work on ZooScope challenges students and inspires creativity, enthusiasm, scholarly rigour and professionalism.

---
Links