Student Resources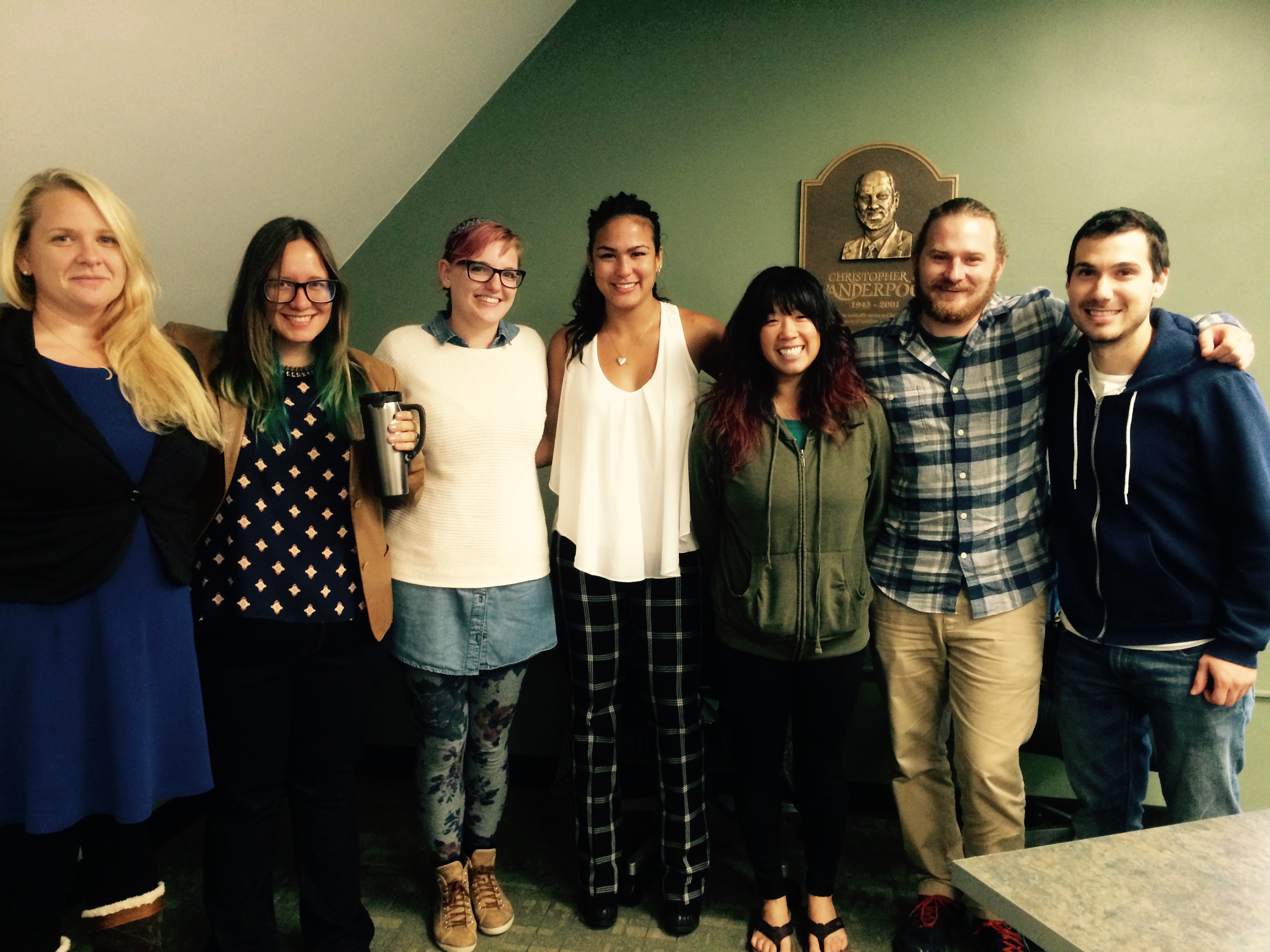 The 2016–17 Animal Studies Graduate Students
Left to right: Kelly O'Brien, Seven Mattes, Marie Carmen Abney, Sandy Burnley, Cadi Fung, Stephen Vrla, Mark Suchyta
---
---
Social Media
MSU Animal Studies Blog (coming soon!)
---
Organizations
MSU Coalition of Animal Protection Organizations
---
Journals
---
Books and Special Editions
Call for Papers: Animal Intersections issue of Animal Studies Journal

Animal Studies Journal is seeking submissions from scholars and creative practitioners for a special edition focusing on the themes of the forthcoming Australasian Animal Studies Association conference 'Animal Intersections', to be held at the University of Adelaide 3-5 July, 2017.

The journal is interested in papers which address the fractures, tensions and layers of intersection across human-animal relations, and in particular for the lives of non-human animals. Papers might engage with the practices and methods associated with theories of intersectionality in order to enrich the study of non- human animal lives and their interface with human society.

If you are interested in submitting an essay for consideration, please visit the journal website and consult submission rules and policies. Length of contributions is generally 4000–6000 words for articles, 1000–6000 for creative works plus images. Submission of articles: http://ro.uow.edu.au/cgi/submit.cgi?context=asj

Submissions are due no later than 31 July, 2017

For further information please contact either: Melissa Boyde: boyde@uow.edu.au
Michael Griffiths: mickg@uow.edu.au

ASJ Editorial team

Editor: Melissa Boyde
Associate Editors: Michael Griffiths, Philip Armstrong, Annie Potts, Sally Borrell 

Ken Shapiro, Human-Animal Studies Book Series

Ken Shapiro, editor of Brill's Human-Animal Studies book series, is seeking manuscripts for the series on any topic that allows exploration of the relation between human and nonhuman animals in any setting, contemporary or historical, from the perspective of various disciplines within both the social sciences and humanities. Among the broad areas included are applied uses of animals (research, education, medicine, agriculture); animals in popular culture (entertainment, companion animals, animal symbolism); wildlife and the environment; and socio-political movements, public policy and the law. If you are interested in submitting a manuscript for the series, please send a query letter and proposal to ken.shapiro@animalsandsociety.org.
The deadline for submissions is ongoing.
---
Conferences and Programs
Call for Papers: 5th European Conference for Critical Animal Studies (Lund, Sweden)

NONHUMAN ANIMALS IN SOCIETY: EXPLORING NEW PATHWAYS FOR RESISTANCE, CHANGE AND ACCOMODATION

5th European Conference for Critical Animal Studies

International conference at Lund University, the Pufendorf Institute

Hosted by the European Association for Critical Animal Studies

The 26th to 28th of October 2017

Keynote Speakers:

Zipporah Weisberg, independent scholar
Volker Sommer, professor of Evolutionary Anthropology.

Conference Website: https://animalsconferencelund.wordpress.com

CALL FOR PAPERS

Historically, nonhuman animals have been placed outside the realm of society and the social. Often relegated to being part of 'nature,' nonhuman animals are often represented as the passive and subordinate counterpart of 'culture'. These social constructions and representation of other animals have contributed to the sustainment of human supremacy and dominance, which until this day permeate the conditions of nonhuman animals in society. Over the past decades, a growing body of literature, cultural texts and scholarly work has dealt critically with the devaluation and misrepresentation of other animals. Influenced by "the animal turn" in the humanities and social sciences, this scholarship has examined both the presence and absence, the visibility and invisibility of nonhuman animals in society. By means of highlighting the social nature of these representations, work has been done to render nonhuman animal resistance, and change more visible. Additionally, with recent developments within scientific disciplines such as ethology, a new focus of research, one that highlights the individuality and agency of nonhuman animals has emerged. This contributes to an altered view on nonhuman animals, whether they are living within or in the periphery of human societies.

The aim of this conference is to bring to focus how scholarly work can contribute to the disruption and replacement of violent and exploitative practices, while also providing a platform for exploring the variety of ways that more just inter-species relations might be established. Special attention will be given to how scholarships and transdisciplinary work can engage with these problems as they exist in media, politics, popular culture and other aspects of everyday life.

On October 26th to 28th 2017, the 5th European Conference for Critical Animal Studies will be hosted by the European Association for Critical Animal Studies (EACAS).

The conference invites scholars and activists from all disciplines dealing with the three broad and intersecting themes, society, media and culture, and how they are assessed in Critical Animal Studies.

The conference welcomes proposals from a variety of scholars and disciplines, including radical academics, independent researchers, students and community activists. Papers may focus on any aspect of the three stands, including but not limited to the following themes:

Nonhuman animals and media
Nonhuman animals and culture
Culture – nature-dualism and its criticism
Nonhuman animals and social theory
Nonhuman animals and critical theory
Social Justice and nonhuman animals
Ethology and societal perception of animals
Normative aspects of animals in media and culture
The political principles of animal liberation
The construction of just interspecies institutions.
The politics and political theory of interspecies co-existence at farm sanctuaries
Histories and genealogies of multispecies politics and communities
Nonhuman animals and agency
Nonhuman animals and social classes
Nonhuman animals and colonialism
Animal liberation and anarchism
Animal liberation as a social movement
Nonhuman animals and feminism
Nonhuman animals and ableism
Nonhuman animals and critical race studies

The conference encourages the emancipatory approach of scholar activists in the field of critical animal studies.

Please note that there will be a 40€ registration fee for the conference. Registration for students, unemployed people or individuals with a low income will be 20€.

Prospective speakers are invited to submit abstracts of 500 words, and a brief biography including name, affiliation and contact details.

Deadline for submission of abstracts: 28th April 2017

Decisions on abstracts: 22nd May 2017

For more information about the conference, or to submit an abstract, please email the organising committee: animalsconferencelund@gmail.com

International Conference on Agricultural and Food Science/International Conference on Biotechnology and Bioengineering. 

October 25-27, 2017

 Lahore, Pakistan. The joint conference is organized by Asia-Pacific Association of Science, Engineering and Technology (APASET) and Virtual University of Pakistan (VU). The themes of the conference are New Approaches and Applications in Agricultural Biotechnology; Animal Science & Technology; Plant Science & Technology; Food Science & Nutrition; Agricultural Engineering, Agricultural Economics and Management. 

Abstract submission 

deadline: 

September 20

.

CALL FOR PARTICIPATION AND PAPERS FOR PHD CANDIDATES AND POSTDOCS

Workshop: Empathy, Animals, Film

With Prof. Lori Gruen (Wesleyan University)

International workshop at the University of Basel, June 20, 2017

Guest: Lori Gruen (Convenors: Markus Wild, Friederike Zenker, Livia Boscardin)

Registration Deadline: April 30, 2017

20/21–24 June 2017, the annual conference of the SLSAeu will be held in Basel on the topic of "Empathies" (http://www.empathies2017.com). In this context, the workshop provides a forum to explore concepts of empathy with regard to animals and especially animals on film.

Empathy is a key concept in contemporary studies focusing on animals e.g. in Animal Ethics or research on Animal Minds. Humans and other animals engage with each other by means of empathy. The understanding thereby ranges from a cognitive ability to put oneself into the shoes of the other to more basic forms of immediate affective resonance. In our workshop, we are particularly keen to discuss Lori Gruen's idea of 'Entangled Empathy'. The aim is to bring together the thinking about entangled empathy and cinematic images of animals. In which ways do films contribute to empathetic engagement, respectively might refuse to do so? In a critique of traditional ethic theory, Gruen emphasizes how important the idea of particular animals, cases and contexts is for an alternative model of ethics. Accordingly, we would like to explore the transformative power of particular animals that become visible on film, as well as possible limits of the filmic medium.

We would like to address questions such as: 1) What is specific about empathy towards animals? How do animals engage empathically with humans? 2) What, if any, are the moral values of empathy? What is the moral value of specific concepts of empathy, e.g. entangled empathy? 3) How can we relate concepts of empathy to experiences with animals on film? How does the medium of film – particular films, scenes, cinematic narratives etc. – contribute to the empathic engagement of viewers?

PhD candidates and early postdocs from fields including, but not limited to, philosophy, anthropology, human-animal-studies, cultural studies, film studies and media studies are encouraged to participate. To apply for participation, please submit both a short CV and a short letter of motivation.

Participants who wish to discuss their own work are encouraged to submit a short abstract of their presentation (1 page). Be prepared to give a 15-min presentation. We invite submissions concerning the work of Lori Gruen (e.g. discussions of the concept of entangled empathy and related topics) and/or the topic of animals in visual media. The conference language is English.

Please hand in all documents electronically to Friederike Zenker: The deadline for submissions is April 30, 2017.  Notice of acceptance or rejection will be announced on May 12, 2017. For questions or further information please contact Friederike Zenker

Contact Friederike Zenker friederike.zenker@unibas.ch University of Basel / eikones NFS Bildkritik / Rheinsprung 11 / CH - 4051 Basel
---
Funding
Internal
External

Call for Research Proposals - The animal protection organizations Farm Sanctuary (farmsanctuary.org) and The Kimmela Center for Animal Advocacy (www.kimmela.org) announce a Call for Grant Proposals for cutting-edge noninvasive research on the complex nature of farm animal (chickens, pigs, sheep, goats, turkeys, and cows) emotions, behavior, and cognitive abilities in an approved setting (such as a farm animal sanctuary). We are particularly interested in funding rigorous innovative research which will expand our understanding of who farm animals are and how they experience their lives. Examples include studies of self-awareness, emotional and social complexity, personality, and mood and anxiety disorders such as depression or post-traumatic stress disorder. All proposals should be designed for publication in peer-reviewed journals, and the plan for peer review submission should be included in the proposal.

 How to Apply

Grants will be awarded for amounts from $1,000–$20,000. Research proposals should include:

A cover letter that includes the proposal title and name of principal investigator and any co-investigators.
An abstract of the proposed research.
Rationale (background) for the study.
Study aims and objectives.
Methodology, including:

A detailed description of how animals will be studied.
Outcomes measurement techniques.
Analysis.

Potential implications or impact for our understanding, perception, and treatment of farm animals.
Curriculum vitae and current affiliation of the applicant. For students, this information should be provided on the advisor(s) offering guidance on the project.
A proposed timeline, including start date and completion date.
A description of the final product (e.g., a research paper), and the plans for submitting for publication and (if applicable) poster presentation(s).

Deadline
Proposals will be considered on a rolling basis. Research can be carried out at any time agreed upon in advance with Farm Sanctuary.

Additional Information

Grant amounts depend on the scope of the project, budget justification, and significance of the study.
All research must take place in an approved setting, such as a farm animal sanctuary. (Farm Sanctuary has approved sanctuaries in Watkins Glen, New York; Orland, California; and Acton, California) Research settings should be ethologically and socially appropriate for the individual animal and his/her species and should not involve animals who are purchased or bred.
All research must be noninvasive, respectful and promote the welfare interests and choices/preferences of the animals; in other words, it must be non-coercive if it involves an intervention.
All research should avoid causing harm to the animals and their co-inhabitants.
Students are welcome, but all students must have an academic advisor and approval from their home institution.
Farm Sanctuary and Kimmela Center officers, directors, and employees, and the immediate family members of such officers, directors, and employees are ineligible to apply for a grant.
The selection committee is comprised of:

Hope Ferdowsian, M.D., M.P.H., Georgetown University; George Washington University.
Joyce D'Silva, Ambassador, Compassion in World Farming.
Lori Marino, Ph.D., Neuroscientist and Executive Director of The Kimmela Center for Animal Advocacy.
Key experts in the area under review, who will be approved by Farm Sanctuary.

Once the selections have been made, grantees will be required to execute a grant agreement prepared by Farm Sanctuary and The Kimmela Center and agree to abide by all terms and conditions thereof.

Please send questions and proposals to lorimarino@kimmela.org.

Animal Welfare Trust

Animal Welfare Trust's grant program seeks to assist organizations whose work can help alleviate animal suffering and/or raise public consciousness toward giving animals the respect they so need and deserve. Although general organizational funding will be considered, preference will be given to well-defined projects with clear goals and objectives. Capital projects will not be considered. Areas of priority include farm animal welfare, vegetarianism and humane education.
The deadline for applications is ongoing.

Farm Sanctuary

The animal protection organization Farm Sanctuary announces a call for grant proposals for observational research of the complex nature of farm animal (chickens, pigs, sheep, goats, turkeys, and cows) emotions, behavior, and cognitive abilities in an approved setting (such as a farm animal sanctuary). We are interested, for example, in the psychological profiles of these animals, including mood and anxiety disorders such as depression or post-traumatic stress disorder.
The deadline for applications is ongoing.
---
Job Listings
Internal
External

Doctoral/Postgraduate Positions in Human-Animal Studies at Universität Kassel

Doctoral/postgraduate positions (EG 13 TV-H) - Faculty of Social Sciences - Social and Cultural History – Human-Animal Studies (Prof. Dr. Mieke Roscher) - start of the programme 01.06.2017

Reference : 30231

Faculty of Social Sciences - Social and Cultural History – Human-Animal Studies (Prof. Dr. Mieke Roscher) - start of the programme 01.06.2017

Job-Nr. 21109734

Doctoral/postgraduate positions (EG 13 TV-H)

Part time, with 50,00 percent of the regular weekly work time of a fully employed person, limited to three years, to collaborate in the graduate programme BangaDyn: Rural-urban Dynamics in Bangalore (P/979). Position for scientific qualification according to § 65 HHG i. V. m. § 2 Abs. 1 Satz 1 WissZeitVG; possibility to pursue a doctoral degree (PhD).

In the framework of the Graduate Programme "Rural-urban Dynamics in Bangalore" (GP-BangaDyn) at the University of Kassel, six PhD positions are to be filled until 1. June 2017. In cooperation with scientists of FOR2432 (http://www.uni-kassel.de/go/for-2432), an established DFG Research Unit at the Universities of Kassel and Göttingen, the PhD students of GP-BangaDyn will analyze the transformation processes that affect agriculture, ecology, economy and society in the course of a very rapidly progressing urbanization. The research thereby focuses on social-ecological systems in the city of Bangalore in southern India, which is classified as an "emerging megacity".

The Graduate Programme BangaDyn is part of the Graduate Academy at the University of Kassel. Possibilities for advanced academic training are therefore offered though the Graduate Academy as well as through the DFG research FOR2432. The interdisciplinary exchange amongst the PhD students in GP-BangaDyn is granted through regular meetings and workshops.

General requirements for all applicants: Each of the six positions implies an obligatory contribution to teaching (2 hours per week and semester) within the courses offered by the respective section that employs the successful candidates. All candidates are expected to thrive for a doctoral degree within the framework of the Graduate Programme, and are requested to participate in project-related seminars, workshops and, if applicable, international conferences. Excellent English skills (in speaking and writing) are compulsory, basic knowledge of German language and of Kannada, the local language spoken in Bangalore, are of advantage. In addition, the candidates are obliged to intensely collaborate in interdisciplinary and intercultural teams in India and Germany, and to spend several months per year in Bangalore to conduct their field research.

Social and Cultural History: "Transforming city landscapes: Human-cattle relationships and the making of urban societies"

Tasks:

The aim of this project is to identify the specifics of human-cattle relationship in the aftermath of the 1947 formation of the Indian state. In a case study based on mainly archival material, focusing on the development of Bangalore city, the transformations in both discursive frameworks as well as in the lived interactions between humans and cattle are to be extracted. In a second step, in-depths oral history interviews will be conducted, making use of innovative approaches in human-animal studies such as animal biography and multi-species ethnography. Main work place is Kassel, Germany.

Specific requirements:

The successful applicant must hold a very good master's degree in history, must be familiar with methods of oral history and must be willing to learn and apply methods and theories of human-animal studies and animal history.

For further questions please contact Prof. Dr. Mieke Roscher (roscher@uni-kassel.de).

Deadline for the application is May 2, 2017

Funded PhD Studentship Network in Yorkshire: Imagining and Representing Species Extinction Deadline 

17th May 2017

Please do all you can to spread the work about an exciting network of PhD studentships available across the three "Russell Group" research-intensive universities in Yorkshire (Sheffield, Leeds, York). The funded studentships (UK resident tuition plus stipend of £14553) are available to international applicants, but they would very likely be required to pay the difference between UK resident and international tuition.

All the best,

Bob McKay

 Announcing three fully-funded three-year PhD studentships as part of a WRoCAH White Rose Network at the Universities of Sheffield, Leeds and York

Final Application Deadline 17th May 2017. Applicants must already have been admitted to the relevant PhD programme by this date in order to apply.

 Imagining and Representing Species Extinction

http://wrocah.ac.uk/new-student/networks/#extinction

 University of Sheffield (Principal Supervisor, Robert McKay)

Theories of loss in cultural representations of extinction

This studentship will explore contemporary literary and other cultural portrayals of species extinction (including the extinction of the human animal). It will interpret them in the context of critical-theoretical approaches to loss—for example beliefs about death and the afterlife; life, vitalism and biopolitics; or memory, mourning and melancholia—to better understand how we value human and nonhuman existence in contemporary cultures.

 University of Leeds (Principal Supervisor, Graham Huggan)

Last Whales: Extinction and the Contemporary Cetacean Imaginary

Whales and other cetaceans have been among the most consistently mythologised of living creatures, while some species currently count among the most endangered on Earth. This PhD studentship will chart contemporary representations of a 'cetacean imaginary', combining literary (possibly also film and television) studies with research in marine conservation biology.

 University of York (Principal Supervisor, Deborah Maxwell)

A World Without Bees? The role of our social and cultural imagination in responding to bee extinction.

This studentship will look at the role of innovative design techniques and methods, as well as visualisation and increasing stakeholder engagement in the prevention of pollinator extinction. This may involve shaping and identifying collective and conflicting narratives by which individuals, communities and corporations project, plan for, or attempt to avoid, a world without bees. We encourage applications from a wide range of disciplines including interactive and speculative design, social and environmental accounting, and related fields.

 In addition to participating in this network and the wider School of English and WRoCAH research communities, the successful applicants will join a vibrant culture of animal studies and environmental humanities research across these Universities.

 Please visit the WRoCAH website for more information, including application details on all three studentships.

http://wrocah.ac.uk/new-student/networks/#extinction

 For more information about animal studies at Sheffield visit http://sheffieldanimals.group.shef.ac.uk/ 

Postdoctoral Research Assistantship, University of Reading -- Birds & People in the Southern Levant

University of Reading - Archaeology

http://www.jobs.ac.uk/job/AYD515/postdoctoral-research-assistant-birds-and-people-in-the-s...

Location: Reading
Salary: £29,301 to £38,183 per annum
Hours: Full Time
Contract Type: Contract / Temporary

Placed on: 21st March 2017
Closes: 18th April 2017
Job Ref: SRF17610

This is a 22-month Post-Doctoral Research Assistant (PDRA) position to join the research team undertaking an AHRC funded project concerning the relationships between birds and people in the southern Levant during the Neolithic. The appointed person will acquire, collate and interpret information from literary and ethnographic sources concerning birds and people during historical, recent and contemporary times within the Levant, and comparable environments elsewhere, to place the interpretation of the Neolithic avian fauna into a wider context.

You will have:

Experience of research using primary and secondary source materials.
A PhD in a relevant subject area within the disciplines of either anthropology, archaeology, history or a related discipline.
Be committed to inter-disciplinary research at the interface of anthropology, ecology, archaeology of history.
A willingness to work in Jordan for periods of up to 3 months duration.

Informal contact details
Contact role:Deputy Vice-Chancellor
Contact name:Professor Steven Mithen
Contact phone:0118 378 6442
Contact email: s.j.mithen@reading.ac.uk

Interviews to be held on the 24 April 2017.

Closing date: 18 April 2017

The University is committed to having a diverse and inclusive workforce and we welcome applications for job-share, part-time and flexible working arrangements which will be considered in line with business needs.

The University of California is looking for an open-ranked professor in the Department of Human Ecology, for 'Social Science and Political Ecology of Animal Agriculture. Deadline June 30, 2017.
Detroit Zoological Society, Animal Welfare Internships

The Detroit Zoological Society's Center for Zoo Animal Welfare (CZAW) is accepting applications for animal welfare interns and residents. CZAW is a resource center for captive animal welfare knowledge, research and best practices; a convener and forum for exotic animal welfare science, practice and policy discussions; and a center conducting research and training, and recognizing advances in exotic animal welfare. The research conducted through the Center represents two key areas of interest: developing additional measures of animal welfare and the effects of captive environments and management practices on welfare. Although broadly applied across species, focus is on several taxa/animal groups. The CZAW animal welfare internships and residencies are unpaid opportunities. Interns and residents will learn the processes used by researchers in the field of animal welfare while assisting in data collection and database management. If you are currently enrolled in a college or university and can receive credit, you will be considered for an internship. If you are a recent college graduate (no more than three years between graduation and start date), you will be considered for a residency.
The deadline for applications is ongoing.

Queen's University, Animal Governance Graduate Research Opportunities

The Lives of Animals Research Group at Queen's University in Canada is seeking highly motivated, interdisciplinary, and adventurous graduate students interested in working on issues related to Animal Governance beginning September 2017 or 2018. Masters and/or doctoral level projects will explore the actors, knowledges, structures, practices, and outcomes that shape human engagements with and management of animals in Canada or Botswana. Projects will engage scholarship at the intersection of environmental governance, political ecology and animal geography to consider how and why particular animal governance strategies are operationalized in a particular context, and the ways in which humans and animals negotiate them as differentially empowered socio-political actors. Projects may focus on companion, domesticated or wild animals and may highlight strategies such as translocation, rehabilitation, training, monitoring, breeding, culling etc. A competitive funding package will be offered to successful candidates, including field research costs within Canada or Botswana. The successful candidate is expected to apply for external funding with support from the research group, and will have the opportunity to publish in peer-reviewed journals and present findings at academic conferences and to key stakeholders.
The deadline for applications is ongoing.
---
Miscellaneous
Summer Retreat Program at Shin Pond, Maine for Animal/Humane/Environmental Studies

by Bernie Unti

Summer Retreat Program at Shin Pond, Maine

for Animal/Humane/Environmental Studies

The 300-acre Camp Muse at Shin Pond, Maine, is the site of a Summer Retreat Program for writers, scholars, artists, educators, and other cultural producers and knowledge workers focusing on animals and/or their humane treatment, and/or on environmental trends or threats relevant to animals and their well-being (habitat loss, climate change, land conservation, environmental degradation, inter alia).  The program, operated by The Humane Society of the United States (HSUS), invites all interested parties to apply for a residency at the property, which is open between July 1 and October 3, 2017.

Camp Muse, a wooded retreat at the edge of a pristine and peaceful pond just ten miles from the northern entrance to Baxter State Park, offers an idyllic atmosphere for research, contemplation, writing, and other creative work.  The purpose of the program, operated through the generosity of longtime HSUS board member K. William Wiseman (1921-2014) and his wife Madge, is to encourage scholarly, cultural, and practical projects relating to animals, and to provide a site for enhanced productivity on such projects.

For views of the property, and other details, see:

http://www.humanesociety.org/about/departments/shin_pond_retreat.html

Applications for use of the Shin Pond property are evaluated by an ad hoc committee at The HSUS.

There is no application form to submit, but the applicant must present: a statement of interest that includes information on the project he/she will pursue; a statement concerning the likely value or benefit of such a project to the work and mission of The HSUS and/or its affiliates; the specific work product that will be produced during the retreat period; details of the likely outcome or application of the work undertaken at the retreat; any applicable scheduling concerns or scheduling preferences; and two professional references.  Applicants may be asked to submit copies of prior publications. To maximize the use of the property and to facilitate transitioning between participants, check in/arrival time is Monday at 2 p.m. and check out time/departure is Friday at 10 a.m. 

If approved, the applicant is expected to cover the costs of transportation to and from Shin Pond, local transportation while staying there, food, beverages, entertainment, recreational activities (including admission to nearby Baxter State Park), long distance telephone services, and all other costs connected with the applicant's use of the property. The HSUS will, however, pay for local telephone service, electrical utilities, and routine maintenance.

Participants may take up to three household members (including spouses, significant others, and children) with them. Please note that because Camp Muse is a Humane Society Wildlife Land Trust-protected wildlife sanctuary, companion animals require specific prior approval and applicants may not be permitted to bring them.  In all events, approved cats will need to remain indoors and dogs must be leashed at all times.

 The house at Shin Pond has the amenities common to any comfortable home, including all utilities and a full complement of furniture, kitchen ware, and other household equipment.

There is a telephone line and high-speed Internet access.  There is convenient food shopping at Shin Pond Village and the town of Patten.  The broad guidelines for the kind of work appropriate to the retreat include:

major intellectual projects such as a book, a chapter on an animal-related topic;
a case study, or an on-line course in animal studies;
analytical or conceptual work for a pro-animal or environmental campaign;
artistic, literary, or cultural projects that celebrate animals and the natural world; and
projects of smaller scope and/or shorter duration. 

We prefer a commitment of at least two weeks.  

Requests for use of the property for shorter periods will be given lower priority.  The property is not generally available for brief stays, e.g., an overnight or weekend visit.  Applications should be sent to Dr. Bernard Unti at The Humane Society of the United States, by mail to 1255 23rd Street, NW, Suite 450, Washington, DC 20037; by fax to 301-258-3077; or by email to bunti@humanesociety.org.  Applications will be received on an ongoing basis.

 

The Tufts Institute for Human-Animal Interaction (TIHAI) is currently accepting proposals for the 2017 TIHAI Student Scholars Program. Projects may be geared towards activities that benefit people, animals, or both, although activities that benefit both will be given priority, and proposals that involve harm or stress to animals will not be considered. Topics may be related to any area of HAI, such as science and engineering education, pet ownership, animal-assisted therapy, and others. Funding will be considered for individual students or a group of students, though all applications require a Tufts University faculty or staff mentor. Applications for graduate or undergraduate student projects are welcomed. Please submit all application materials via email to hai@tufts.edu by 

5:00pm

 on 

April 1

.
Agricultural History Society Call for Awards

The Agricultural History Society seeks nominations for its publication awards through 

December 31, 2016

. To nominate a book, article, or dissertation with a 2016 publication date, please follow the directions below. If you have a question, please email executive secretary Jim Giesen (JGiesen@history.msstate.edu).

Animal History Museum
First 100 Chimps and Last 1,000 Chimps

First 100 Chimps and Last 1,000 Chimps track individual chimpanzees from use in biomedical and behavioral research in the US to retirement. The working group tasked with exploring how to implement the conclusions of the IoM committee report suggest ending most chimpanzee research. First 100 Chimps serves as a memorial to chimpanzees who have been used in research, and Last 1,000 Chimps is forward looking. The websites' creator will be tweeting updates on the status of individual chimpanzees at Lori Gruen (@last1000chimps).

Viral Pandas

The Sneezing Pandas Project is looking for contributors. An anthrozoologist and an artist have launched an ongoing and interactive online project looking at animals in the ether. What goes viral and what doesn't? What responsibilities, if any, do we have for these animals we choose to share online? These are the opening questions, but they are in no way prescriptive for the course of the research. Viral Pandas is based on a central blog: http://viralpandas.wordpress.com, but runs for a week from an art gallery producing physical artistic responses to the ideas, as well as running online across different social networks including Facebook, Pinterest, Twitter, YouTube, Digg, and G+ for the foreseeable future. Your input is welcomed. If you'd like any further information, email us at viralpandas@gmail.com.

Voices for Biodiversity

Voices for Biodiversity is a nonprofit ezine with a goal of providing a multimedia platform where citizen eco-reporters around the globe can share their stories about biodiversity and their relationships to other species and the ecosystems that support us all. The project hopes to awaken humanity to the reality that we must move away from an anthropocentric toward an eco-centric worldview to prevent the massive die-off of other species.

ZooScope: The Animals in Film Archive

Animals have played a crucial role in the development of film as an artistic medium, from the literal use of animal products in film stock to the capturing of animal movement as a driver of stop-motion, wide-screen and CGI film technology. The wish to picture animals' lives, whether naturalistically or playfully, has led to the establishment of key genres such as wildlife film and animation. ZooScope looks at and beyond these major aspects of animals in film, covering animals' role in film genres and styles; the range of literal and symbolic ways animals appear in film; animals in the film star-system; animal lives and the ethics of film-making; adaptation and the different challenges of filmic and literary representation of animals and human-animal relations. ZooScope is a research resource for the animal studies and film communities produced by students and academics. In addition to the open call for submissions, we are seeking partnerships with academic colleagues whose students could contribute to ZooScope. Academic partners would act as sub-editors of the site, with their students producing ZooScope entries, for example, as formal assessments (with marking and feedback taking the professional form of editorial review and assessment completion coinciding with publication). This is how the archive has developed so far, as a research collaboration between undergraduate and postgraduate students and staff at the University of Sheffield and York University in Canada. Work on ZooScope challenges students and inspires creativity, enthusiasm, scholarly rigour and professionalism.

---
Links